Chopin was born on a leap day, 29th of February 2008, and is named after a star in the constellation Leo. Chopin had some of the best genetic lines within Bernese Mountain Dog breeding in Europe. His ancestors came from, among others, France, Britain, Poland and Denmark.
He was from a litter of eight puppies where the mother was a beautiful bitch, Polish champion, Astra, and the father was international champion Equo. Both dogs have had healthy offspring, which also was the case with Chopin's litter.
Chopin was a very strong well-proportioned dog with the most beautiful Bernese Mountain Dog head and a great mind. He was friendly, intelligent, easily learning and very loving. He was a dream of a Bernese Mountain Dog that we are incredibly proud of.
We did participate in dog training both at the Bernepladsen and at DCH Risskov since Chopin was 9 -10 weeks old, in the autumn of 2010 we took a break because we moved, but shortly after we started again at DCH Kaløvig.
We went to dog shows with Chopin, where he did well. Again, our participation in dog shows dropped during the autumn of 2010 due to moving, but we started again in 2011.
Chopin has been mental described in an UHM, where his performance is very close to the desired profile. The result can be seen at DKK Hundeweb.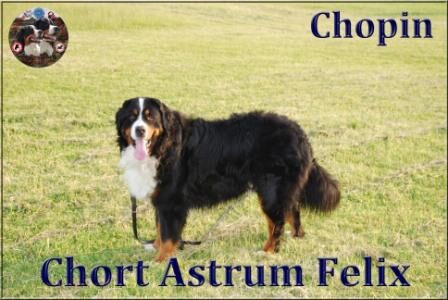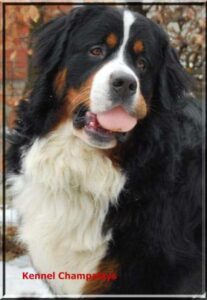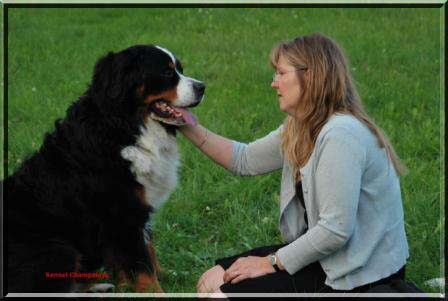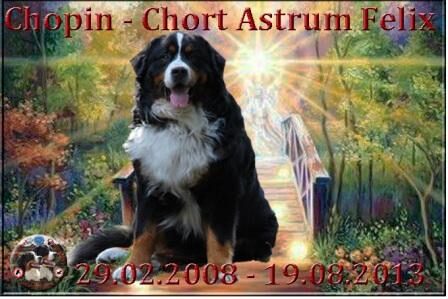 Monday 19th August 2013 at 17:15 our beloved Chopin walked over the rainbow bridge. After 4 days of illness, we lost him to cancer.
He became 5 ½ years.
He passed peacefully away at home in my arms. He was surrounded by his family and the other dogs. He was not afraid.
He left a enormous hole in our lives. The grief is unbearable – it hurts so much!
Chopin was my dog. My great love, pride and joy. My sunshine. He was a big, handsome male with the most amazing well-shaped bernese head and the most wonderful mind. Always happy and loving. He found great pleasure in working with me and in the dog training.
Even though we only had him in such a short time, we are enormously thankful that this wonderful creature has enriched our lives – many thanks to Agnieszka og Jarek for him. We cherish every moment!
Goodbye our beloved and wonderful dog.