Coco was born 14th of December 2014. She was born here in Kennel Champalays, and was one of the five beautiful puppies from our first litter: litter A . We determined that Coco and her siblings should live in Denmark so we could follow them closely.
Coco was the daughter of PL CH Keep in Touch della Torre d'Ovarda and Jambalayla Wow z Krainy Zeusa. We had for a long time wanted to combine these two lines, which in our opinion are one of the finest lines. It is characterized by robustness, elegance, health and long life expectancy.
She was named after one of the most pioneering and influential fashion designers in history, Coco Chanel. Our Coco was like Coco Chanel elegant, charismatic and charming.
Coco was a very beautiful, well-built girl with strong limbs and a compact body. She had a fine and well-shaped head. She was brave, clever, happy and playful.
Coco did participate in puppy training and show training.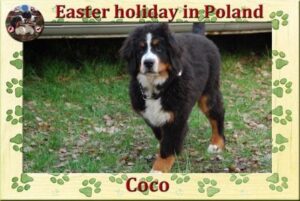 We lost Coco suddenly. Coco had an abdominal inflammation, where all organs were inflamed. The vet could not do anything about it. Coco became 4.5 years old.