Jamba was born 24th of April 2009. She was named after a dish from the Cajun kitchen in the southeastern United States. The kitchen is a mix of the Indians, the French immigrants and the African slaves culture. Jamba was a mix of the best genetic lines within Bernese Mountain Dog breeding in Europe. Her ancestors came from, among others France, Switzerland, Poland and Denmark.
She came from a litter of nine puppies where the mother, Cleo, was a beautiful bitch and her father, Tarsius, originated from France. Jambas siblings lived, among others in U.S.A. and Czech Republic. They were all beautiful, robust, healthy and loving.
Jamba was a super intelligent and affectionate dog with a fantastic temperament. She was medium size and strongly built with a strong chest and a nicely shaped head. Jamba never got bored and gave us great joy in everyday life.
We participated in dog training both at the Bernepladsen and at DCH Risskov since Jamba was 12 weeks old. In the autumn of 2010 we took a break because we were moving, but shortly after we started again at the show-training at DKK in Kolind.
We went to dog shows with Jamba, where she did very well. Again, our participation in dog shows dropped dur to the moving process. In 2011 we started again.
Jamba was approved for breed by the Danish Bernese Mountain Dog Club and the Danish Kennel Club.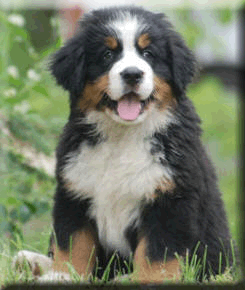 Jamba had degenerative myelopathy (DM) which affected the back legs and caused muscle weakness, muscle losses and lack of coordination. Jamba could not walk therefore she got peace at home surrounded by her family and flock. Jamba became eight years old.