Do you need help with a mating?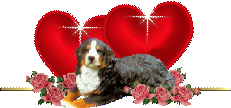 I have had Bernese Mountain Dogs available for breeding for many years. I have had both stud males and bitches in breeding, I have therefore  lot of knowlegde about both sexes.
I do only help with mating, if the bitch is ready for mating and if progesterone tests have been made before mating. 
Furthermore, I recommend that the semen of the male has been tested before mating.
My payment is:
– 1.50 DKK as kilometric allowance (back and forth) plus expenses for ferries, bridges, etc.
– 500 DKK for the first mating
– 250 DKK next mating