Genia was born on 30th of Maj 2012. She was named after the world's most famous beer - Guinness, however, her name was spelled with only one "n", because she was not a beer. Her nickname is Genia, short for Eugenia originating from Greek and means "comes from a good family."
She was from a litter of four where both mother and father, Herta and Henri, is highly awarded and very beautiful. Genia's siblings lived in Ukraine and Poland.
We had waited for a puppy from this combination for two years, characterized by beauty, health, resilience and a good temperament. Genia was beautifully built with robust limbs and body, and she had a beautiful and well-formed head. Additionally, she was happy, playful and not afraid of anything.
She came from kennel Szczęśliwy Słon, which is one of the top Polish kennels.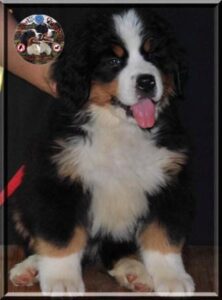 Genia had severe dysplasia and had major problems and difficulties with walking despite surgery. Therefore she got peace. Genia turned two years.