Luna was born on 6th of July 2012. Her name means "the one who embraces the moon". For those who can reach the moon to embrace it, everything is possible and we hope that this is true for Luna also. 
She comes from a litter of 8 puppies. Her mother is Grand Champion Appetitanya Bossa z Krainy Zeusa and dad is JHCH, HCH Sennenland's Chance to Win. Both are beautiful and strong dogs. Luna siblings live in Europe and in the United States of America.
Luna is a very beautiful girl. She is robust built with strong limbs and a compact body. She has a beautiful and well-shaped head. She is smart, happy, playful and always smiling. 
Luna stays with us as part of our breeding cooperation with Kennel Kraina Zeusa. 
Thanks to Iva, Ola and Arthur.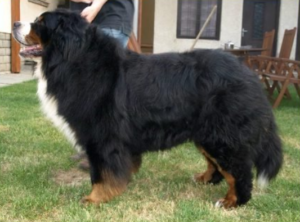 JHCH, HCH Sennenland's Chance to Win
Grand champion Appetitanya Bossa z Krainy  Zeusa
Luna is a therapy dog ​​at TrygFonden Besøgshunde. She visits a nursing-home, where she spreads joy and happiness. Luna loves this job very much.